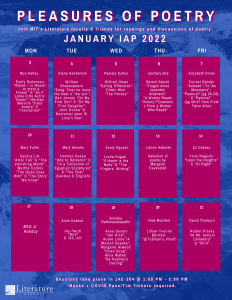 Pleasures of Poetry meets this IAP 2022 in 14E-304 from 1:00 – 2:00pm every weekday through the first three weeks of IAP (Jan. 3-21), with the exception of MLK Day (Jan. 17). This popular activity – which aims to reach all those with an interest in poetry, regardless of experience level – has been offered every IAP for more than 25 years. Each one-hour session is devoted to a poet or two, often a single poem, chosen by session leaders who volunteer to facilitate conversation for that day. Discussion and collaborative close reading are the aim and ideal of each hour. Some participants attend every session, but many others may drop in only once or twice during the series to discuss a favorite poet or poem. The roster of poets is typically diverse: from ancient Chinese masters to American poets laureate, and from canonical authors such as Shakespeare, Keats, Auden, and Bishop to contemporary poets including Eve L. Ewing, Alice Notley, and many more. Free and open to the public; as well as staff, alumni, and students.
Everyone must be masked and have COVID pass or a Tim Ticket to attend PoP 2022: http://covidapps.mit.edu/visitors
IF YOU ARE NOT ON COVID PASS: You must email tranvoj@mit.edu prior to coming to MIT. You will need a Tim Ticket invitation & attestation to gain access to building 14. 
No food or drink is allowed. Only the moderator may have a water bottle.
All attendees must be masked at all times, including the moderator and respondents. There will be no exceptions to this requirement.
Attendees are NOT allowed to come early or stay late; we, unfortunately, cannot allow that sort of socializing this year due to MIT's COVID policies. **Please email with any further questions.
Pleasures of Poetry 2021 Poetry Booklet.pdf Location: Building 14, Room 14E-304 Jan 3 Wyn Kelley – Emily Dickinson "Bloom – is Result – to meet a Flower" & "As if some little Arctic flower"; Herman Melville "Field Asters" & "Inscription" Jan 4 Diana Henderson – William  Shakespeare "Song: Fear no more the heat o' the sun"; Ben Jonson "On My First Son" & "On My First Daughter"; John Donne "A Nocturnal upon St. Lucy's Day" Jan 5 Pamela Sutton – Wilfred Owen "Spring Offensive"; Edwin Muir "The Horses" Jan 6 Zachary Bos – Bertolt Brecht "Fragen eines lesenden Arbeiters"; "A Worker Reads History"/"Questions From a Worker Who Reads" Jan 7 Elizabeth Doran – Forrest Gander "Aubade"; "In the Mountains"; "Pastoral" (pg 28-29); & "Pastoral"  (pg 46-47) Jan 10 Mary Fuller – Sandra Lim "Amor Fati" & "The Vanishing World" and Martha Collins "The Good Gray Wolf" & "The Story We Know" Jan 11 Mark Hessler – Herman Hesse "Ode to Hölderlin" & "In a Collection of Egyptian Sculptures" & "The Poet" (German & English) Jan 12 Avery Nguyen – Linda Hogan "If Home is the Body" & "The Fingers, Writing" Jan 13 Lianne Habinek – Selection of  poems by Margaret Cavendish Jan 14 AJ Odasso – Yone Noguchi "Upon the Heights" & "At Night" Jan 17 – There will be no POP session on Martin Luther King Jr. Day – Institute Holiday. Jan 18 Anne Hudson – Joy Harjo "Bird" & "Ah, Ah" Jan 19 Brindha Rathinasabapathi – Anne Sexton "Her Kind";  Audre Lorde "A Woman Speaks";  Margaret Atwood "Siren Song"; Alice Walker "Be Nobody's Darling" Jan 20 Nick Montfort – Lillian-Yvonne Bertram "@Tubman's_Rock" Jan 21 David Thorburn – Robert Pinsky "At Mt. Auburn Cemetery" & "Shirt"